Sleeping in a bed with curtains was common in earlier times since it conserved warmth. The simple lines of our Pencil Post Bed made it equally handsome draped or undraped. As the need for such a functional tall post bed diminished, the sophistication of the post turnings increased – as in our Sheraton Tall Post Bed.
Solid wood stock is used for the bedposts. Beds have hand-cut mortise and tennon joinings at the corners – so strong they are guaranteed for life.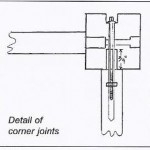 Choices of headboard styles and all bed sizes are available.